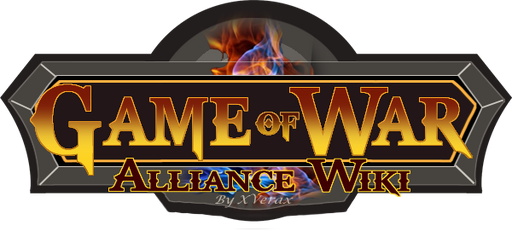 GoW Official Wiki! Check it out for all your Game of War needs!
Welcome to the The Game of War Alliances Wiki
This is the first, and official wiki dedicated to the alliances (Clans) of Game of War: Fireage mobile game. Rather than creating websites, facebook pages, forums etc for your alliance, you can create a number of pages on the GOW Alliances wiki, to create a personalised, freely hosted, and indexed page for your alliance, including details for recruits, rules, regulations and have anyone stumble upon them that may be interested.
To keep the wiki simple and organised, there are dedicated pages for each Kingdom (Server), that you can index your alliance on and have a link to your alliance page.
Getting Started
Simply create a page for your alliances naming it with the Alliance tag, such as "Alliance: *Name here*". This ensures that your alliance page is an alliance page, and can easily be found as an alliance, and not mistaken for an article, kingdom or other content. Once created, be sure to add categories to your alliance so it can be indexed and found. This includes your kingdom, and the "Alliances" tag. Please do not create other tags, as they create new category pages. This wiki is intended for Alliances only, for alliance members to keep in contact, share images and information, events, and for recruiting/advertising purposes.For Game of War content, check out the Game of War Wiki.
Listing Your Alliance
To add your alliance to the Alliance page and your Kingdom's page, type them into the Category section at the bottom of your page. Please remember to also add the category of your Kingdom, so members can search for your alliance under a particular Kingdom/their Kingdom.
You can see an example Alliance page Here.